Match schedule of the Japan national football team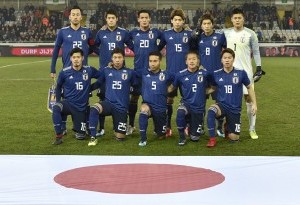 The Japan national football team represents Japan in international matches and football tournaments. The managing organization is the Japan Football Association (JFA), the governing body for association football in Japan. Japan is one of the most successful teams in Asia, having qualified for the last six consecutive FIFA World Cups with second round advancements in 2002 and 2010, and having won the AFC Asian Cup a record four times, in 1992, 2000, 2004 and 2011. The team has also finished second in the 2001 FIFA Confederations Cup. Their principal continental rivals are South Korea and most recently, Australia.
FIFA ranking: 55
The coach: Akira Nishino
Akira Nishino (born April 7, 1955) is a Japanese football player, he played for the Japanese national team, now the head coach of the Japanese team. Nishino became the first coach at Gamba Osaka to have won four different titles - the AFC Champions League in 2008, the Emperor's Cup twice in 2008 and 2009 and the 2005 J-League titles as well as the J.League Cup twice in 1999 and 2007.
Matches:



Colombia

-:-

Japan



19.06.18
15:00

GROUP H




Japan

-:-

Senegal



24.06.18
20:00

Ekaterinburg Arena

Ekaterinburg

GROUP H



Japan
-:-
Poland


28.06.18
17:00

Volgograd Arena

Volgograd

GROUP H
Achievements
International
Olympic Games
Bronze Medal (1): 1968
FIFA Confederations Cup
Runners-Up (1): 2001
Continental
AFC Asian Cup
Champions (4): 1992, 2000, 2004, 2011
Regional
Dynasty Cup
Champions (3): 1992, 1995, 1998
EAFF East Asian Cup
Champions (1): 2013
Far Eastern Games
Champions (1): 1930
Other
Afro-Asian Cup of Nations
Champions (2): 1993, 2007
AFC – OFC Challenge Cup
Champions (1): 2001
Invitational
Kirin Cup
Champions (11): 1991, 1995, 1996, 1997, 2000, 2001, 2004, 2007, 2008, 2009, 2011
Individual awards
Japan Professional Sports Grand Prize
Years (1): 2002
AFC National Team of the Year
Years (5): 2000, 2005, 2008, 2010, 2011