Match schedule of the Korea Republic national football team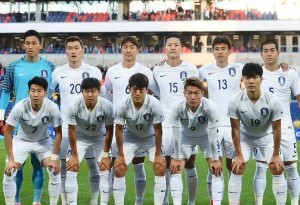 The Korea Republic national football team is a national football team that represents South Korea in international matches and football tournaments. Controlled by the Korea Football Association. One of the most famous and strongest teams in Asia. More often than other teams of the region appeared in the world championships (10 times) and is the only team from Asia that participated in the semifinals of the World Cup. Two-time champion of Asia (1956, 1960).
FIFA ranking: 59
The coach: Shin Tae-Yong
Sin Tae Yong (born 11 April 1969) is a South Korean football player who played the position of an attacking midfielder and a football coach. As of 2017, he leads the team of South Korea.
Matches:



Sweden

-:-

Korea Republic



18.06.18
15:00

Nizhny Novgorod Stadium

Nizhny Novgorod

GROUP F




Korea Republic

-:-

Mexico



23.06.18
18:00

Rostov Arena

Rostov-On-Don

GROUP F



Korea Republic
-:-
Germany


27.06.18
17:00

GROUP F
Achievements
Regional competitions
EAFF East Asian Cup
Winners (4): 2003, 2008, 2015, 2017
Runners-up (1): 2010
Third place (1): 2013
Fourth place (1): 2005
Dynasty Cup
Winners (1): 1990
Runners-up (2): 1992, 1995
Third place (1): 1998
Continental competitions
AFC Asian Cup
Winners (2): 1956, 1960
Runners-up (4): 1972, 1980, 1988, 2015
Third place (4): 1964, 2000, 2007, 2011
CONCACAF Gold Cup
Fourth place (1): 2002
Worldwide competitions
FIFA World Cup
Fourth place (1): 2002
Olympics team
Olympic Games
Bronze medal (1): 2012
Asian Games
Gold medal (4): 1970, 1978, 1986, 2014
Silver medal (3): 1954, 1958, 1962
Bronze medal (3): 1990, 2002, 2010
Fourth place (2): 1994, 2006
Other awards
FIFA World Cup Most Entertaining Team
Winners (1): 2002