Match schedule of the Mexico national football team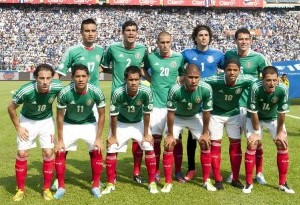 The Mexico national football team represents Mexico in international football tournaments and matches. The managing organization is the Mexican Football Federation. The most titled team in CONCACAF. The greatest achievement in the international arena is still the win of the Confederations Cup in 1999 - in the final of this tournament Mexico defeated Brazil with a score of 4:3. The highest position in the ranking of FIFA - 4 th place (1998, 2003, 2004, 2006).
FIFA ranking: 16
The coach: Juan Carlos Osorio
Juan Carlos Osorio Arbelaes (born 8 June 1961, Santa Rosa de Cabal, Department of Risaralda) is a Colombian football coach. Since 2015, head coach of Mexico.
Matches:


Germany
-:-
Mexico


17.06.18
18:00

GROUP F




Korea Republic

-:-

Mexico



23.06.18
18:00

Rostov Arena

Rostov-On-Don

GROUP F




Mexico



-:-

Sweden



27.06.18
19:00

Ekaterinburg Arena

Ekaterinburg

GROUP F
Achievements
FIFA World Cup
Quarterfinals (2): 1970,1986
FIFA Confederations Cup
Winners (1): 1999
Third place (1): 1995
Fourth place (2): 2005, 2017
CONCACAF Championship / Gold Cup
Winners (10): 1965, 1971, 1977, 1993, 1996, 1998, 2003, 2009, 2011, 2015
CONCACAF Cup
Winners (1): 2015
Copa América
Runners-up (2): 1993, 2001
Third place (3): 1997, 1999, 2007
Summer Olympics
Winners (1): 2012