Match schedule of the Sweden national football team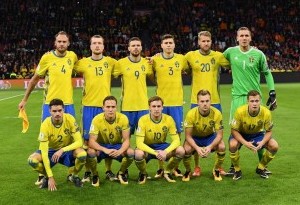 The Sweden national football team is a team representing Sweden in international matches and football tournaments. The managing organization is the Swedish Football Association. Sweden's home ground is Friends Arena in the Stockholm urban area and the team is led by Janne Andersson.
FIFA ranking: 18
The coach: Janne Andersson
Jan Olof "Janne" Andersson (born 29 September 1962 in Halmstad) is a Swedish football coach. He is manager of the Sweden national team.
Matches:



Sweden

-:-

Korea Republic



18.06.18
15:00

Nizhny Novgorod Stadium

Nizhny Novgorod

GROUP F



Germany
-:-
Sweden


23.06.18
21:00

GROUP F




Mexico

-:-

Sweden



27.06.18
19:00

Ekaterinburg Arena

Ekaterinburg

GROUP F
Achievements
Major titles
FIFA World Cup
Runner-up (1): 1958
Third place (2): 1950, 1994
Fourth place (1): 1938
UEFA European Championship
Semi-final (1): 1992
Olympic football tournament
Gold Medal (1): 1948
Bronze Medal (2): 1924, 1952
Minor titles
Nordic Football Championship
Winners (9): 1933–36, 1937–47, 1948–51, 1952–55, 1956–59, 1960–63, 1964–67, 1968–71, 1972–77
FBF 40 years
Winners (1): 1947
SvFF 50 years
Winners (1): 1954
FBF 50 years
Winners (1): 1957
Maspalomas Tournament
Winners (1): 1988
West Berlin Tournament
Winners (1): 1988
Joe Robbie Cup
Winners (1): 1994
Nordic Cup
Winners (1): 1994
Carlsberg Cup
Winners (1): 1996
King's Cup
Winners (4): 1997, 2001, 2003, 2013