Russian tourist visa information for cruise ship passengers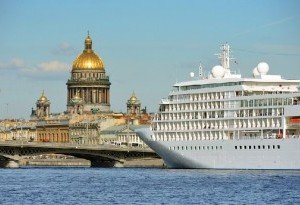 Cruise ship passengers can currently visit Russia on visa-waiver scheme provided the stop in the port of call doesn't exceed 72 hours and tourists stay overnight on board the cruise ship or in accommodation specifically approved by the travel agency (the Russian Federation Government Decree #532 of 28th, August 2003).
Cruise passengers may disembark from the ship without a tourist visa if they participate on tours organized by travel company. Passengers not participating on tours and wishing to disembark will need to obtain a Russia tourist visa. Passengers won't be permitted ashore if they don't present a valid passport, a Russian visa and a voucher issued by a Russian travel company or another authorized organization.
You do not require Russian visa if:
You are a cruise passenger, who is staying in St. Petersburg for less than 72 hours, and you will board on your cruise ship; You arrive by ferry, and stay in St. Petersburg for less than 72 hours (booking a hotel is required).
In both cases, you will need to join an accredited tour to be allowed entry through Russian immigration.