Great news! We would like to bring to your attention our unique tours around Russia on retro trains!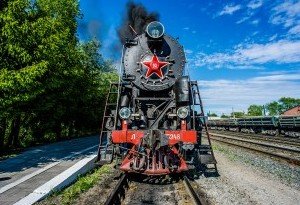 Discover Russia with luxurious comfort on a famous retro trains. Bus cities tours became a very ordinary way. We offer you a new but at the same time a very old way of traveling. Russia has numerous railway stations and even more distant regions with ancient history and architecture.
Russian railway is one of the oldest in the world – the first line was constructed in the first part of the 19th century. And it was truly a very luxurious transport. Today Russian has many railway stations with ancient history and even a museum of trains. To your attention tours in the following regions are presented: Golden Ring, Moscow, St. Petersburg, Tula, Baikal, Karelia, Rostov-on-Don.
Thanks to locomotive tours, the tourists can immerse themselves in the atmosphere of past century. The retro train includes a locomotive of mid XX century and carriages of '90s to accommodate the tourists. All programs have educational, cultural and historical bias and are designed for families with children.
Detailed information about our offers you can find out by clicking on the following links: