Match schedule of the Germany national football team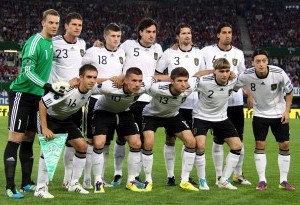 The German national football team is a team representing Germany at international football competitions. The governing organization is the German Football Association. The German Football Union has been a member of FIFA since 1908, UEFA since 1954. The current world champion.
The German national team is one of the most successful national teams in the world, having won a total of four World Cups (1954, 1974, 1990, 2014) and three European Championships (1972, 1980, 1996). At the same time, in the asset of the German national team four "silver" and four "bronzes" of the world championships, as well as three "silver" and three "bronzes" of the European championships. Also, the German national football team is the current owner of the Confederations Cup, winning it for the first time in its history in 2017.
FIFA ranking: 1
The coach: Joachim Low
Joachim Low (born February 3, 1960, Schoenau, Germany) is a German football player, football coach, since August 1, 2006 - head coach of the German national team, which he led to victory at the 2014 FIFA World Cup in Brazil and the 2017 FIFA Confederations Cup in Russia.
Matches:
| | | | | | | | | |
| --- | --- | --- | --- | --- | --- | --- | --- | --- |
| | Germany | -:- | Mexico | | 17.06.18 | 18:00 | | GROUP F |
| | Germany | -:- | Sweden | | 23.06.18 | 21:00 | | GROUP F |
| | Korea Republic | -:- | Germany | | 27.06.18 | 17:00 | | GROUP F |
Achievements
FIFA World Cup
Champions (4): 1954, 1974, 1990, 2014
Runners-up (4): 1966, 1982, 1986, 2002
Third place (4): 1934, 1970, 2006, 2010
UEFA European Championship
Champions (3): 1972, 1980, 1996
Runners-up (3): 1976, 1992, 2008
FIFA Confederations Cup
Champions: 2017
Third place: 2005
Other awards
FIFA Fair Play Trophy
Winners (2): 1974, 2017
FIFA Team of the Year
Winners (3): 1993, 2014, 2017
World Soccer Team of the Year
Winners (2): 1990, 2014
Laureus World Team of the Year
Winners: 2015