Admiralty building, Saint Petersburg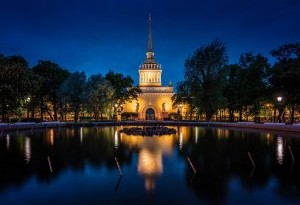 The first building on the left bank of the Neva, initially - the shipyard-fortress. Nevsky Prospect, Gorokhovaya Street and Voznesensky Prospect, which form the three-beam basis of the historical plan of the city, meet in this place. The modern monumental building with a tower and a weather vane on the steeple is the third in a row, created at the beginning of the 19th century by architect Zakharov in the style of Russian classicism. The first was a one-story wooden structure with a fortress wall and a moat. The tower with the spire appeared already in 1711 and was again erected with all the restructuring.
Under Peter, there was a shipyard and a maritime ministry - the Admiralty Board. From here comes the urban expression "admiral's hour," that is, time to drink: at 11 am, the collegia finished work, and the king and colleagues went to have dinner.
The weather vane in the form of a ship depicts, as is commonly believed, the first Russian military frigate "Eagle".
It is worth paying attention to the many sculptures that adorn the building: statues of gods and heroes, allegorical figures, symbolizing the conquest of the elements and sea power. 28 statues (fourteen identical from two sides) high above the city as if turned to the elements themselves.
HISTORY
The first Admiralty was laid in 1704 on the island between the Neva and Moika (the island was called the Admiralty). At first it was a single-story, P-shaped log building, open toward the Neva, surrounded by an earthen rampart with five bastions and a deep moat. Two canals were dug from the Neva, the surrounding forest was cut down for a review of the area - this is how the Admiralty Meadow was formed, on the site of which Isaac, Palace and Senate Squares, and Alexander Garden later appeared. The fortress-shipyard was located boathouses, docks, workshops, warehouses - all that is necessary for the construction and equipment of ships.
The weather vane and the ball under it (the so-called "apple") appeared on the Admiralty spire already in 1719, when the Dutch master Hermann van Boles expanded and completed the first Admiralty.
In 1727–1738, architect I.K. Korobov rebuilt the building in stone. At the beginning of the XIX century, it no longer fit into the surrounding ceremonial landscape, and the third restructuring began under the guidance of architect A.D. Zakharov. Because of the war of 1812, work was delayed for almost 20 years. In 1823, the magnificent structure known to us was finished, decorated with many allegorical statues and high relief "Institution of the fleet in Russia".
Vessels at the Admiralty Shipyard were built until 1844. Later, there were institutions and educational institutions associated with the fleet: the Maritime Ministry, the Naval Engineering School, the Naval Engineering Institute.
During World War II the spire with the help of climbers was closed with a protective bag made of burlap.
Join our tours and take a look at this amazing attraction:
Excursions - www.uvisitrussia.com/day-tours/tours-to-st-petersburg/
Tours - www.uvisitrussia.com/tours-to-st-petersburg/