MS Maxim Gorky
MS Maxim Gorky ship was built in Austria in 1974 and since that it's been refurbished a couple of times. In 2020, the ship "Maxim Gorky" will go through a major modernization to the level of 5* according to the international standards.
As a result of the refurbishment of the ship, a large restaurant and entertainment complex will be located on the boat deck, and a SPA area with a gym will be located on the sun deck. The ship has 50 cabins of increased size of 22 m2 with recreation areas. The interior design and decoration of the ship were based on ethnic motifs of small peoples, the Nenets and the Evenki.
- colorful northern interior design
- 50 cabins with recreation area (22m2)
- restaurant and entertainment complex
- SPA and gym"
Dates and rates
Departs / Returns
Deluxe Middle
Deluxe Main
Standard Main Deck
Standard Middle Deck
Deluxe Boat
Suite
MS Maxim Gorky Yenisei River Cruise Krasnoyarsk - Dudinka (11 days)
Tuesday, Aug. 11, 2020
Saturday, Aug. 22, 2020
7,636
7,513
6,775
7,021
7,760
11,085
Select Date
Wednesday, Sep. 02, 2020
Sunday, Sep. 13, 2020
7,636
7,513
6,775
7,021
7,760
11,085
Select Date
MS Maxim Gorky Yenisei River Cruise Dudinka - Krasnoyarsk (13 days)
Friday, Aug. 21, 2020
Thursday, Sep. 03, 2020
10,099
9,976
9,238
9,484
10,222
13,548
Select Date
Saturday, Sep. 12, 2020
Friday, Sep. 25, 2020
10,099
9,976
9,238
9,484
10,222
13,548
Select Date
MS Maxim Gorky Yenisei River Cruise Krasnoyarsk - Vorogovo - Krasnoyarsk (10 days)
Sunday, Oct. 04, 2020
Wednesday, Oct. 14, 2020
6,281
6,158
5,419
5,666
6,404
8,622
Select Date
MS Maxim Gorky Yenisei River Cruise Krasnoyarsk - Verkhneimbatsk - Krasnoyarsk (11 days)
Thursday, Sep. 24, 2020
Monday, Oct. 05, 2020
7,636
7,513
6,775
7,021
7,760
11,085
Select Date
Cabins
Ship plan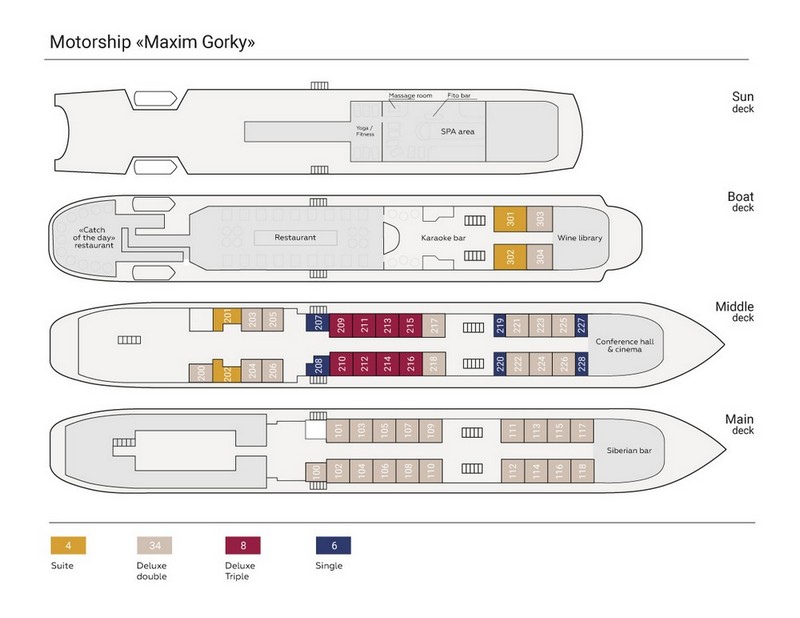 Award-winning
Group Tour Packages
Useful Links &
Company Information
US office
3422 Old Capitol Trail Suite 1252,
Wilmington DE, 19808 USA.
US toll-free: 1-888-845-8877

Russian office
Ligovsky pr. 57, Office 19,
191040, St. Petersburg, Russia
tel: +7-812-309-5339