MS General Lavrinenkov
MS "General Lavrinenkov" named after famous Soviet air force hero of the WWII General Vladimir Lavrinenkov was built in 1990 in Germany, refurbished in 2016. The ship can accommodate up to 182 passengers and can be compared to a 4* hotel.
The ship was built in 1990 for the USSR / Russian state-owned company "Volga-Donskoe Retschnoje Parochodstwo" based in Rostov-on-Don. Currently, the vessel is owned by the Russian river cruise shipping company Doninturflot and operated by its subsidiary company Orthodox Cruises.
The ship is named after General Vladimir Lavrinenkov (1919-1988), an Air Force hero of WW2 (1939-1945). Initially, the ship's passenger capacity was 212, but following the 2016 refurbishment, its capacity was reduced to 184.
MS Lavrinenkov was reborn in 2016 as "MS Excellence Katharina" via complete refurbishment. After the refit, the cruise ship acquired usable and pleasant interior design in warm colors, as well as much more convenience. Now most cabins have balconies, and one passenger elevator serves all decks.
Onboard entertainment programming includes games, themed parties, dancing evenings and live music concerts. From the sweeping sundeck to the spacious lounges, this floating hotel provides unique cruising vacations on the Russian waterways.
Cabins
There are several different categories of staterooms aboard Excellence Katharina, including Standard Single, Standard Twin, Deluxe and Suites. All cabins are air-conditioned and heated. Each stateroom as amenities offers individually controlled air conditioning, refrigerator, radio, flat TV, en-suite bathroom (WC, shower, single sink vanity), large windows (excepting Lower Deck cabins which are with portholes).
Most staterooms are with two single beds. Panorama Suites are 2-room accommodations with separate bedroom (one double bed, sofa) and spacious living room (with L-shaped sofa). An extra folding bed is available for a third person. Suite bathrooms are with bathtub / shower configuration. Category A1 are single-occupancy cabins, each with one single bed.
Traditionally for this type of Russian passenger ships, MS Lavrinenkov has two bars, two comfortable restaurants (one dining room, one dinner / bar-restaurant), conference hall (meeting room), library (reading room), beauty salon (hair salon), sauna, laundry facility, souvenir shop. sun deck with outdoor seating (loungers, deckchairs and tables).
Cabins
Ship plan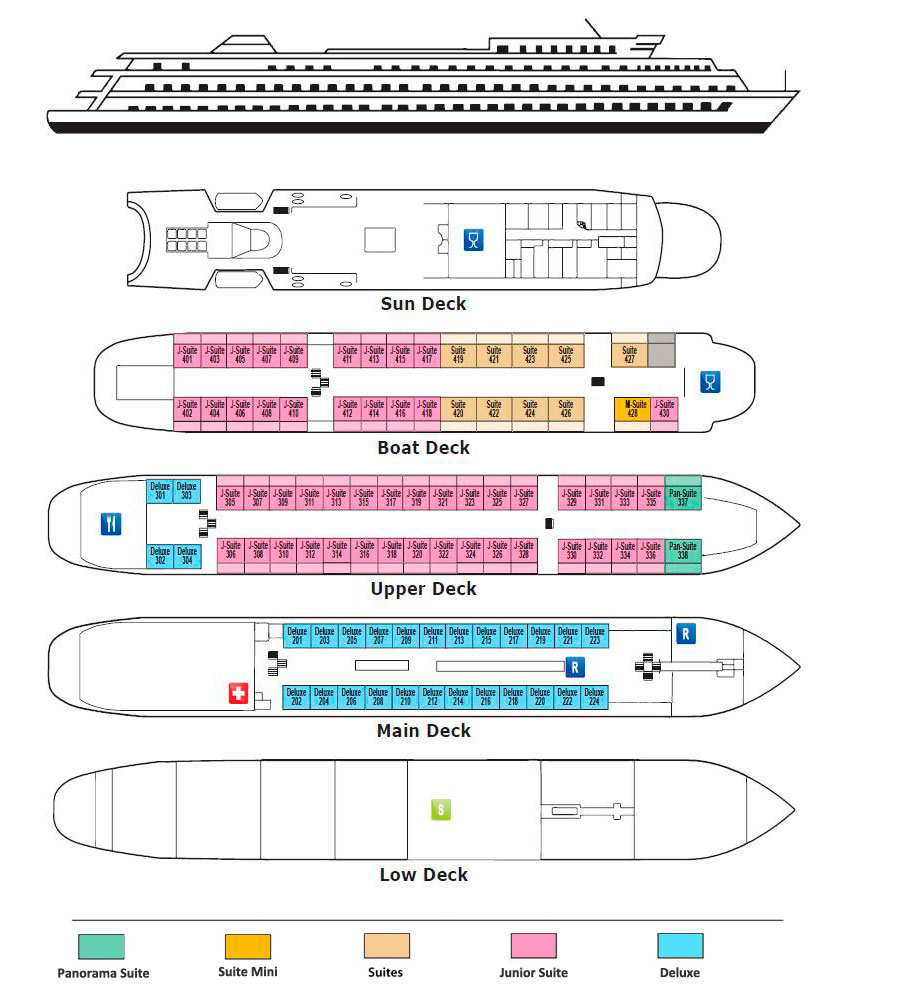 Award-winning
Group Tour Packages
Useful Links &
Company Information
US office
3422 Old Capitol Trail Suite 1252,
Wilmington DE, 19808 USA.
US toll-free: 1-888-845-8877

Russian office
Ligovsky pr. 57, Office 19,
191040, St. Petersburg, Russia
tel: +7-812-309-5339