Mustai Karim
The Mustai Karim – a state-of-the-art ship built toexceed your every expectation. A 5-star floating hotel,impeccably designed to offer an unrivalled onboardexperience of Russian luxury.
Founded in Germany in 1985 the fleet of DCS Touristik now consists of eight river cruise ships. The tour operator specializes in high-quality bus-ship combinations. The program includes group tours, river cruises, event tours, city trips, wellness trips and musical travels.The ships operate mainly on the rivers Main, Rhine and Danube and with some exceptions also Volga and Nile.
Mustai Karim was built in 2019 in Russia. With a length of 141 meters and 4 decks this ship comfortably accommodates up to 338 guests. The sun deck and the Panorama Bar invite you to relax and watch the beautiful landscape. In general the ship is very modern and designed in light colours. The currency aboard is Russian rouble. Alternatively, you can pay the bill in the end of your stay with Visa or Mastercard.

Life on board
Mustai Karim awaits you in a friendly, informal atmosphere. The sun deck, the lounge and the Panorama Bar at the bow invite you to relax. A restaurant, a bar and a pub ensure a culinary variety. In addition there are a small wellness area and a souvenir shop.

Staterooms
The staterooms are located on deck 2-4 and furnished comfortably. All staterooms are equipped with a bathroom (shower and toilet), hair dryer, safe, tv, radio, telephone and 220 V sockets. The oceanview staterooms are equipped with large panoramic windows. The suites with balcony are located on the sun deck and upper deck. There is a bath tub instead of a shower in the bathrooms of the suites.

Food and Beverages
Aboard you are going to receive full board (breakfast, lunch and dinner). The multi course menus consist of tasty Russian dishes and local specialties. The quality of the cuisine corresponds to the typical middle-class hotels. Two of the culinary highlights are the traditional Russian tea ceremony and the pirate dinner.

Entertainment, Sports and Relaxation
During your stay aboard different classes for cooking, yoga and Russian are offered. Furthermore vodka and blini tastings take place. Live music and dance parties are part of the program as well. For relaxation there are cozy places at the sun deck or in the lounge. In the Panorama Bar you can watch the passing landscape perfectly. On the main deck there is a small wellness area where you can book treatments like manicure or massages.

Shore Excursions
On the route of Mustai Karim you can expect many exciting and interesting shore excursions. On various city tours, walks and museum visits you have the opportunity to immerse yourself in the Russian history and way of life.

Our Summary
By travelling aboard Mustai Karim you combine a relaxing and modern river cruise with many new impressions and interesting facts about the Russian culture and the beautiful landscape at the river banks of Volga.
Cabins
Ship plan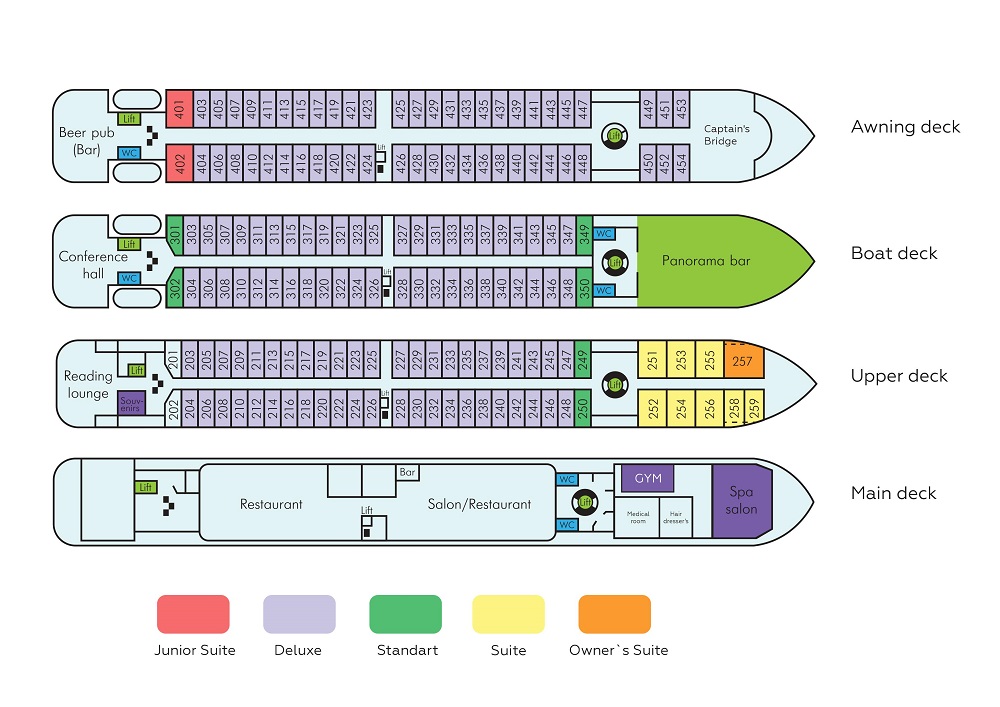 Award-winning
Group Tour Packages
Useful Links &
Company Information
US office
3422 Old Capitol Trail Suite 1252,
Wilmington DE, 19808 USA.
US toll-free: 1-888-845-8877

Russian office
Ligovsky pr. 57, Office 19,
191040, St. Petersburg, Russia
tel: +7-812-309-5339