KAMCHATKA: Welcome to a wilderness where adventures begin and roadmaps end!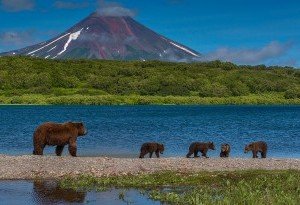 Kamchatka is without exaggeration one of the most spectacular regions in Russia. It occupies the area of 470,000 sq. km, which equals the size of France, Belgium and Luxembourg combined, and separates the Sea of Okhotsk from the Pacific Ocean. One should not confuse Kamchatka with Siberia; this name is used for the peninsula itself and the closest part of the continent, including Karaginsky Island and the Komandorsky Archipelago. The mountain ridges - Sredinny, Valaginsky, Ganalsky and Kumroch - stretch from the north to the south giving the peninsula the shape of a giant fish. There are more than 160 volcanoes on the peninsula (29 of them are active), due to the fact that it lies on the Great Pacific "ring of fire".
It's no wonder these majestic giants contribute to the region's six UNESCO World Heritage sites. Equally as stunning are the 90 geysers and numerous hot springs that make up the 6km the Valley of Geysers; the second largest concentration of geysers on earth, only accessible by chopper, this natural gem remains a virtually untouched region of raw geothermal power. The Kamchatka Peninsula is the ultimate destination for travellers seeking a once in a lifetime adventure in a land few outsiders have laid eyes on.
Detailed information about our offers you can find out by clicking on the following links: