Magnificent mosque Kul Sharif in city of Kazan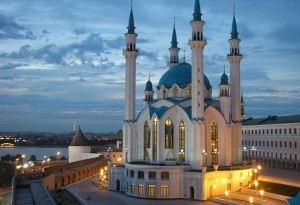 The Kul Sharif Mosque, the main mosque of Tatarstan and one of the symbols of Kazan, is located on the territory of the Kazan Kremlin. Gorgeous as the renewed ancient city itself, the cathedral mosque was built on the threshold of the new XXI century and opened in the year of the thousandth anniversary of Kazan. It recreates the generalized appearance of the main mosque of the Kazan Khanate, destroyed in the middle of the XVI century after the capture of Kazan by the troops of Ivan the Terrible. In the name of the mosque sounds the name of a descendant of the Prophet Mohammed, Imam Kul Sharif, who died in that battle.
The project of a mosque was developed by architects Sh. Kh. Latypov, M.V. Safronov, A.G. Sattarov, I.F. Saifullin. Construction went on for almost 10 years - from 1996 to 2005. It was carried out at the expense of donations, and the names of all who contributed to the creation of a mosque, are listed in the Memorial Book. It is located in the main hall, and it contains more than 40 thousand names and organizations.
Traditional architectural forms of the mosque easily turn into almost surrealism. For example, the dome of the mosque, as conceived by the architects, is associated with the legendary Kazan cap of Ivan the Terrible, which is now kept in the Armory. In lancet arches and slender minarets, the symbolic image of a tulip - the ancient Bulgarian sign of rebirth and prosperity - is distinguished. Four minarets 58 meters high are lined with Ural white marble. The carpets covering the floor inside were donated by the Iranian government, and the two-ton chandelier was made in the Czech Republic according to sketches by Tatar artists.
The capacity of the mosque is 1500 people. It is important that this huge mosque, one of the largest in Europe, supports the idea of religious tolerance and the community of confessions - Christianity and Islam. This is also emphasized by its neighborhood "on equal terms" with the Cathedral of the Annunciation of the Kazan Kremlin.
The mosque houses the Museum of the History of the Spread of Islam in the Middle Volga Region. It can also be reached from the south entrance.
IMPORTANT
Kul Sharif Mosque is not only a religious setting, but also an important tourist site, and the entrance to it is open to all (under normal conditions: women need to cover their heads and open parts of the body; handkerchiefs issued at the entrance). The entrance for tourists is closed only on Fridays from 12:00 to 14:00, when a namaz is performed in the mosque. In normal times, you can see the interior of the mosque from a special balcony.