Peter and Paul Cathedral, Kazan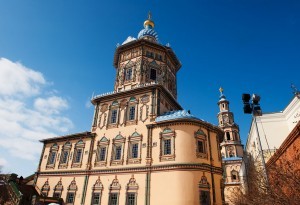 The Peter and Paul Cathedral was built in the center of Kazan in 1723–1726. Peter I himself, who visited Kazan during the Persian campaign in 1722, became the "Godfather" of the temple. The king arrived in the city on the eve of his birthday and settled in the house of the merchant Ivan Mikhlyayev, and on May 30, the 50th anniversary of Peter was solemnly celebrated in Kazan. After the tsar left, the merchant Mikhlyayev, in honor of such an event, decided to erect a new cathedral on the site of the old Peter and Paul Church, which was located near his house. In 1726, Metropolitan of Kazan and Sviyazhsky Sylvester (Kholmsky) consecrated the temple.
The cathedral was built in the style of Petrine Baroque, its facades are decorated with multi-colored relief floral ornaments. The scope with which it was built was unique for Kazan and the entire Volga region of that time. The cathedral includes two temples: the upper one is consecrated in the name of the holy Apostles Peter and Paul, the lower one - in honor of the Presentation of the Lord. In addition to the building of the cathedral itself, the 49-meter bell tower and the clergy house are included in the cathedral complex.
Throughout the 18th – 19th centuries, the Peter and Paul Cathedral burned repeatedly, and it was renewed and restored frequently. The temple underwent its most impressive restoration in the late 1880s, when it had already very dilapidated. The works were supervised by architect Mikhail Litvinov. The parish temples were rebuilt from bricks, the foundation was renewed, and the stucco on the facades was restored.
In 1939, the Soviet government closed the cathedral. Since 1964, the planetarium operated here. In 1967, the upper church housed the restoration workshops of the State Museum of the Tatar Autonomous Soviet Socialist Republic. The church returned to believers in the 1980s.
The cathedral impresses not only with its external beauty, but also with the majestic ancient 25-meter seven-tier iconostasis located in the upper church. One of the main shrines - the miraculous Smolensk-Sedmiozernaya icon of the Mother of God.
The terrace of the upper church offers a beautiful view of the city.
Join our tours and take a look at this amazing attraction:
Excursions - www.uvisitrussia.com/day-tours/tours-to-kazan/
Tours - www.uvisitrussia.com/day-tours/tours-to-kazan/