The exhibition "Treasures of Russian Museums"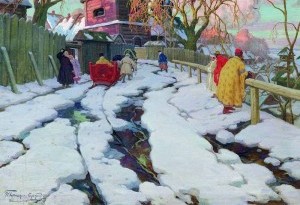 From 4 to 25 November 2018, the Manezh Central Exhibition Hall will host an exhibition of about 280 of the most significant exhibits from 50 museums in Russia.

Never in the history of Russia in a single collection were not shown works of art from different parts of our vast country: from Vladivostok to Kaliningrad, from Khanty-Mansiysk to Feodosia and, of course, from Central Russia and the Volga region.
The exhibition is striking not only geography, but also temporary coverage. Here works of several centuries: from the icons of the Rurik era to the twentieth century.
In preparation for the opening was a lot of work. The total length of the collection routes for works from regional museums alone was 145,040 km. Many paintings specifically for the exhibition in the Manezh were restored.
The main theme of the exhibition was the unbreakable unity of the cultural space of the country. The works not only speak of great creative potential, but also constitute a colossal educational and artistic foundation.
The art collections of regional museums are unique. Formed by the efforts of several generations of collectors, museum workers, artists and their heirs, they overcome stereotypical ideas about provincial museums.
The curatorial group of the project, which included art critics of the State Tretyakov Gallery, the State ROSIZO Museum and Exhibition Center and experts of the Patriarchal Council on Culture, presented the history of Russian art in all its diversity, starting with icons and parsuns of the 17th century and ending as famous to the general public, the paintings of great artists, such as K. P. Bryullov, A. G. Venetsianov, O. A. Kiprensky, V. A. Tropinin, I. K. Aivazovsky, I. I. Levitas, who practically did not leave the limits of regional museums , Ilya Repin, Valentin Serov, BM Kustodiev, I. Mashkov, AA Deineka, and many others.
The exhibition presents all genres of painting: portrait (noble, bourgeois, peasant), landscape from north to south of Russia, cityscape, historical canvases. The variety of names and works demonstrates a unique picture of the development of national art.
The exhibition will be a significant event for the life of the capital. Art critics and art lovers are already showing interest in it.
The exposition for all age groups will be organized a rich excursion and educational program prepared by the Ministry of Culture of the Russian Federation, the historical park "Russia - My Story", the State Tretyakov Gallery and GMMC "ROSIZO". A richly illustrated catalog is also published.
In the years 2019-2020, the cycle of expositions is planned to continue. There will be exhibitions devoted to Russian and Western European art.
The opening ceremony of the exhibition is scheduled with the participation of President of the Russian Federation V.V. Putin and Patriarch of Moscow and All Russia Kirill.
If you want to travel to Russia and visit this or another cool place - write, and our Travel Consultant will pick up a tour for you.