Yury Gagarin Cosmonauts Training Centre (Zvezdny Gorodok - Star Town) (7 hours)
Spend an action-packed day inside the Yuri Gagarin Cosmonaut Training Centre, using the same simulators used by cosmonauts to prepare for space travel. The Centre is located in Zvezdny gorodok (Star City) - a name which may refer to the facility itself and to the grounds on which it is located. It is the first cosmonaut training facility and home of the largest of three cosmonaut units in Russia. You will be able to see an accurate copy of the "MIR" Space Station and learn about what the cosmonauts' way of life is like, up in orbit. You should be impressed by the Hydro-Space Laboratory – a gigantic pool (23 m. wide but 12 m deep) with models of an orbital station, its modules and the spaceship "Soyuz" inside!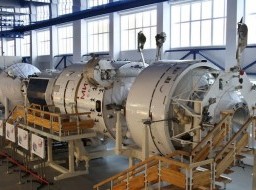 The Yuri A. Gagarin State Scientific Research-and-Testing Cosmonaut Training Center is a Russian training facility responsible for training cosmonauts for their space missions. It is in Star City of Moscow Oblast, a name which may refer to the facility itself or to its grounds. (Read more about Yury Gagarin Cosmonauts training center)
The secret Star City was built to train Soviet cosmonauts, including Yuri Gagarin, the 1st man in space. Many other famous Russian cosmonauts trained here with Gagarin: German Titov, Valentina Tereshkova, the first female cosmonaut, and Alexei Leonov, the first cosmonaut to exit the spaceship into space. The best facilities were built for them: the world's largest centrifuge and hydro laboratory.
Many cosmonauts from other countries (USA, Japan, Germany and many others) also have trained here together with Soviet Russian cosmonauts.

On this Star (Space) City Tour you will see:
Models of Soyuz Soviet spacecraft

World's largest centrifuge with an 18-meter radius

Hydro laboratory, with the model of the International Space Station in water, which allows

to simulate

the weightlessness and many more
Type: Private Tour
Duration: 7 hours
Departure time: 10:00 AM
Thanks ! We will reply you in less than 24 hours (usually within 1-2 hours).
Thanks ! We will reply you in less than 24 hours (usually within 1-2 hours).
1 person
-
US$
696.35
(
US$
696.35
per person)
2 person
-
US$
695.40
(
US$
347.70
per person)
3 person
-
US$
695.40
(
US$
231.80
per person)
4 person
-
US$
695.40
(
US$
173.85
per person)
5 person
-
US$
693.50
(
US$
138.70
per person)
6 person
-
US$
695.40
(
US$
115.90
per person)
7 person
-
US$
798
(
US$
114
per person)
8 person
-
US$
874
(
US$
109.25
per person)
9 person
-
US$
940.50
(
US$
104.50
per person)
10 person
-
US$
997.50
(
US$
99.75
per person)
Our flexible payment options allow you to pay 20% of a deposit first and the remaining 80% in 14 days prior to your tour date - payment can be done both online or over the phone. This gives you the peace of mind knowing your spaces are booked on the tours and that you do not miss out on making the most of your time in Russia.
Also you get 5% discount and get the best, top-rated and most experienced and knowledgeable hand-picked tour guide appointed on a priority basis.
In our experience, exceptional travel experiences are almost always delivered by exceptional people. With that in mind, we utilize a comprehensive approach to select and employ the best tour guides only. Multilingual and well travelled, each possesses deep insight into the diverse attractions and cultural patterns throughout the region. With us guides undergo a rigorous selection process, achieving outstanding knowledge of local culture and language. Rest assured that the best tour guides only will be working on the tours to give you excellent opportunity to explore the best of the sights during both short and long-term stay in Russia.
Once you complete your reservation, we will send you a booking confirmation email. As the day of the tour approaches, our logistics team will provide you with all relevant information for your tour.
Speak to an expert
Call us now
+1 (888) 845-8877
Speak to an expert
Call us now
+1 (888) 845-8877