Hermitage Museum (with roundtrip transfer) (4 hours)
Hermitage Museum is treasure-house of world-famous paintings and sculptures. With the possible exception of the Louvre, there is no museum in the world that rivals the Hermitage in size and quality.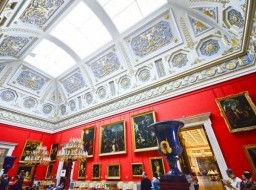 The Hermitage Museum is the world culture encyclopaedia written in Russian. It is a unique museum that combines a beautiful art collection with the memory of Russian national history. This is a museum of culture, a museum of art, a museum of Russian history, and also the museum of Russian architecture. The whole Hermitage is where the heritages of different nations were collected and displayed. It is one of the largest and oldest museums in the world, founded in 1764 by Catherine the Great and has been open to the public since 1852. The buildings that the Hermitage occupies are brilliant examples of European architecture. The walls of these buildings have also seen a great number of important historical events and almost all history of the Russian Empire took place within them - from Peter the Great to Nicolay II. Every visitor can feel the force of Russian history here. Its collections, of which only a small part is on permanent display, comprise over three million items, including the largest collection of paintings in the world. The collections occupy a large complex of six historic buildings along Palace Embankment, including the Winter Palace, a former residence of Russian emperors. (Read more about Hermitage Museum)
Type: Private Tour
Duration: 4 hours
Departure time: 10:00 AM, 12:00 PM, 02:00 PM, 04:00 PM
Thanks ! We will reply you in less than 24 hours (usually within 1-2 hours).
Thanks ! We will reply you in less than 24 hours (usually within 1-2 hours).
1 person
-
US$
154.85
(
US$
154.85
per person)
2 person
-
US$
180.50
(
US$
90.25
per person)
3 person
-
US$
236.55
(
US$
78.85
per person)
4 person
-
US$
292.60
(
US$
73.15
per person)
5 person
-
US$
342
(
US$
68.40
per person)
6 person
-
US$
381.90
(
US$
63.65
per person)
7 person
-
US$
405.65
(
US$
57.95
per person)
8 person
-
US$
463.60
(
US$
57.95
per person)
9 person
-
US$
521.55
(
US$
57.95
per person)
10 person
-
US$
579.50
(
US$
57.95
per person)
Our flexible payment options allow you to pay 20% of a deposit first and the remaining 80% in 14 days prior to your tour date - payment can be done both online or over the phone. This gives you the peace of mind knowing your spaces are booked on the tours and that you do not miss out on making the most of your time in Russia.
Also you get 5% discount and get the best, top-rated and most experienced and knowledgeable hand-picked tour guide appointed on a priority basis.
In our experience, exceptional travel experiences are almost always delivered by exceptional people. With that in mind, we utilize a comprehensive approach to select and employ the best tour guides only. Multilingual and well travelled, each possesses deep insight into the diverse attractions and cultural patterns throughout the region. With us guides undergo a rigorous selection process, achieving outstanding knowledge of local culture and language. Rest assured that the best tour guides only will be working on the tours to give you excellent opportunity to explore the best of the sights during both short and long-term stay in Russia.
Once you complete your reservation, we will send you a booking confirmation email. As the day of the tour approaches, our logistics team will provide you with all relevant information for your tour.
Speak to an expert
Call us now
+1 (888) 845-8877
Speak to an expert
Call us now
+1 (888) 845-8877